A first-ever national gathering of representatives from business schools around the country that have programs to help businesses in "under-served communities" gain a better chance to succeed and create jobs will take place in Seattle next month, the result of an unusual collaboration of a prominent business school and a global financial firm.
The July 10-12 Conference on Business Development in Under-Served Communities, which will draw leaders from 20 universities that have programs aimed at engaging students with businesses in low- and moderate-income communities, is the culmination of a 13-year vision of Michael Verchot, the man responsible for the event.
Phyllis Campbell
Verchot, director of the Business and Economic Development Center (BEDC) since its 1995 founding at University of Washington's Foster School of Business, hopes the conference will serve to dramatically expand the number of schools supporting programs for businesses in under-served communities.
In the two years since he first met with Phyllis Campbell, the respected Seattle-area banking leader who is vice chairman of the Northwest region for JPMorgan Chase, she and other executives of Chase have not only come to share the vision, but have enhanced, with time, counsel, and dollars, the opportunity for the vision to become reality.
Next month's gathering will also serve as the springboard for a fund-raising initiative, also supported by Campbell and Chase, to create an endowment for the BEDC to become a national center to guide collaboration and information sharing on "best practices" among business schools with such programs.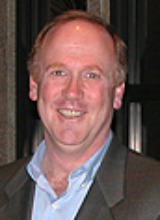 Michael Verchot
While "under-served communities" might be assumed as synonymous with minority businesses, Verchot says that's not necessarily accurate, adding that urban under-served communities might usually be minority communities, but that non-urban areas might merely be economically challenged. He uses the example of some communities, like Forks, that have been impacted by timber-industry changes.
"By under-served we mean two things: communities where the median household income is 80 percent or less of the regional median household income, and racial,ethnic, gender communities where businesses under perform the national average," Verchot said.
Verchot, one of the earliest architects of academic emphasis on minority business programs, including an annual Minority Business Awards banquet that remains the only such statewide event in the nation, says that he has wanted, since 2000, to build such a national network to aid businesses in under-served communities.
The BEDC will soon to be renamed the Center for Consulting and Business Development and a $10 million fund-raising effort launched to advance Verchot's vision, a goal for which $2 million has already been raised.
The fact that it took a helping hand from some key players to bring about the conference and set the stage for the next step in Verchot's vision may be appropriate counterpoint for the assistance he hopes his center will help bring about for challenged businesses.
The first meeting with Campbell two years ago was arranged by Neil McReynolds, longtime Seattle business leader and a UW alum and founding co-chair of the BEDC, whom Verchot credits with "being instrumental in every stage of our development since our founding."
And Campbell, CEO of the Seattle Foundation and prior to that Washington president of U.S. Bank when she was tapped by JP Morgan Chase CEO Jamie Dimon to guide the bank's Northwest business, credits Cree Zischke, Chase executive for Global Philanthropy, whose region includes both Washington and Arizona, with being "instrumental in understanding the national scalability of the model."
Verchot and McReynolds wanted advice from Campbell on how to fashion an endowment to build upon the BEDC's work in Washington State.
"But we didn't have the horsepower, in terms of staff, nationwide relationships, vision for what this conference could lead to and funding, until we began working with Chase," Verchot said.
The funding Verchot refers to is a $600,000 grant to BEDC to put on the conference, through which Verchot and Chase hope to establish around the country academic centers that will work with small businesses in under-served communities. Support from Zischke and the bank has already helped launch centers on the BEDC model at Washington State University and at Arizona State University and University of Arizona.
"The endowment he was talking about raising for the center wasn't very much so Cree and I told him to raise the bar and think bigger," recalls Campbell, who explained that the $600,000 for the conference is a multiple-year commitment, part of $1.2 million that the Chase Foundation has put behind bringing about Verchot's vision of a national center.
"Our philosophy is always aligned toward philanthropic pillars and one is how do we work with very small businesses, especially minority businesses, that we want to help ensure get a leg up," added Campbell.
Bill Bradford, who is a former dean of the school of business at UW, will provide a report at the conference on a study he was commissioned by the Kauffman Foundation to produce on what research has been done on minority business over the past decade.
"The goal was to find out what we know about programs that may have beneficially impacted minority owned business and determine whether we still have the same issues facing minority business that we did in the last century, or have we improved over the past 13 years," Bradford said.
Other unusual initiatives by BEDC are also making their way into programs of other schools, including the innovative Business Assistance Program that links student teams with Rotary Business Mentors and alumni advisors to work with local businesses, a program McReynolds spearheaded with Seattle Rotary as past president of the organization.
McReynolds, who also teaches at the business school, calls it "a win-win situation" that not only gives needed help to small businesses but "gives students fresh from the classroom great practical experience" helping small businesses deal with the callenges they face.
The BEDC has now involved other Rotary Clubs, with Bellevue Rotary working with students at Bellevue College and the Vancouver Rotary with WSU-Vancouver students.
Of the Minority Business Awards program, Verchot notes it's "a way of highlighting success and creating role models for other entrepreneurs and our students of color. These companies don't necessarily need help from us so we use them as examples for others to follow."