To those who have watched the leading role Washington State University has played in distance education for nearly a quarter century, word that WSU's online MBA programs have been ranked No. 1 in the nation by U.S. News & World Report will seem like appropriate recognition.
But the honor isn't viewed by College of Business Dean Eric Spangenberg, or WSU President Elson Floyd, as the culmination of a chase for rankings. Rather, as Floyd put it, "Our goals are to increase access, improve quality and push the envelope of educational innovation. We have and will continue to experiment with the most promising approaches to digital instruction for connecting students to WSU."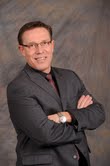 Dean Eric Spangenberg
Indeed the success of Spangenberg and his team in being chosen as at the forefront of online MBA programs nationally is far beyond the early distance learning WSU established when a microwave-tower relay system brought higher ed to new branch campuses in Vancouver and the Tri-Cities.
But the early '90s commitment to distance learning that had WSU staff sometimes out in snow storms straightening up
the towers so the offerings of faculty on the Pullman mother campus could reach students at the new campuses was no less vital than the initiatives evident today.
In the view of Sam Smith, who as WSU president at the time oversaw launch of the branch campuses and was the key college president involved in development in the late '90s of Western Governors University (WGU), the WSU honor is a key indicator of this state's leadership in on-line education.
Smith was instrumental in getting legislative approval two years ago for the launch of WGU-Washington to provide online baccalaureate degrees. And he suggests:"Watch our state's two-year colleges because they are on the forefront of one of the next real stages of this evolution."
"It has long been predicted that America' system of higher education must evolve new and more creative models of institutions to meet the needs of our students and our country," Smith said. "The state of Washington, with WSU's leadership, is doing just that and if you combine it with the online, competency based WGU-Washington, we are truly leading this evolution.".
Janis Machala, long involved in coaching entrepreneurs and now guiding online programs at Bellevue College, picks up on Smith's comments by noting she "fell in love with the role of the community colleges" because of their ability "to be more flexible and entrepreneurial in meeting employer needs and because of the focus on employable job skills versus theoretical education."
While there's more than a little challenge to bringing those getting their degrees and MBAs online into the normal university experience, the social media evolution is enhancing the opportunity to do that, says Cheryl Oliver, director of graduate business programs at WSU.
Oliver, whom Spangenberg credits with being the person largely responsible for putting the WSU MBA programs in place, says "We don't want to just be pushing information out. These online students are WSU students, Cougars, and it's important for us to find ways to engage them so they have the same circle of experiences as other students, trying to make sure we are using best practices to keep them engaged."
"I think one of the biggest challenges we have had in entering the online arena is a public misunderstanding," Oliver noted. "People tend to believe that going online means boxing up a brick and mortar program and trying to replicate a traditional classroom online. While we do offer the same core material (course topics, etc...) online education is a class unto itself."
Spangenberg, who praises Floyd for being "instrumental in encouraging us to pursue excellence in this learning space" and for "allowing us to pursue our own destiny" in this online development, views online offerings as a global opportunity.
"Online programs are the most effective and efficient mechanism by which we can positively influence communities around the globe," he says."While the education of many communities is prohibitively expensive on both sides of the equation for face-to-face programs, they are readily and economically reachable through online access."
Smith, the emeritus president of WSU, carries a lifetime conviction about the importance of higher education's broad accessibility.
As a youngster, Smith was a crop picker in the fields of the Salinas Valley until an academic scholarship to University of California-Berkeley proved to be his ticket to higher education, a career in academia and eventually to a college presidency. He maintains a strong belief that "our higher education system must evolve and once again be accessible to the average person," an accessibility he calls "the key to our country's future."
(Editor's Note: I have been a member of the national advisory board of the WSU College of Business for nine years)