If a Boston bar called "Cheers" hadn't already gained a reputation as THE iconic Irish pub, someone would surely suggest that a Seattle establishment named "F.X. McRory's" deserved that honor.
It's officially F.X. McRory's Steak Chop and Oyster House, named after a famous New York Irish bar of decades ago. In fact this McRory's, created in an old warehouse on the then-still-seamy side of Seattle's downtown in 1977 by "proprietor" Mick McHugh and his then-partner and college pal Tim Firnstahl, has tagged itself "America's No. 1 Bar."
And with a Guinness World Record designation as the establishment with the most bottles of public spirits, and displaying the eye-catching wall-sized portrait of the bar itself by renowned sports artist LeRoy Neiman, it's a designation that might arguably hold water. Or more likely Irish whiskey.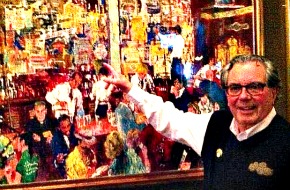 Mick McHugh with
LeRoy Neiman painting
The gregarious McHugh, who turns 70 in July but still spends almost eight hours a day mixing with customers and staff at McRory's, has owned the place outright since he and Firnstahl divided their six-restaurant chain via the flip of a silver dollar from atop the Space Needle in 1988.
Firnstahl called heads and McRory's was one of the three that went with "tails," which is how the coin came up on the ground when the media and others gathered with McHugh and Firnstahl to take a look.
McHugh says he honestly had no preference to how the coin would come up. But it's hard for those who know him and McRory's to imagine anyone else owning a place that has his personality and creativity all over it, from the back-bar wall of bottles that was an innovation when McRory's opened to the Neiman painting.
McHugh grew up in Seattle's Capitol Hill neighborhood and jokes that throughout his Catholic school upbringing at St. Joseph's grade school, Seattle Prep and Seattle University, he never had to stray more than two miles from the house where he was born.
McHugh graduated from Seattle U. in 1965 but two years later, he was convinced to return as alumni director despite the fact that he, Firnstahl, and now-prominent Seattle auctioneer Kip Toner had just opened their first restaurant, the El Nido Inn in Eastgate.
McHugh agreed to become SU alumni director if his partners agreed, which they did, and if he could continue at El Nido as the night bartender, which he did.
That first restaurant turned out to be a learning experience, or as McHugh puts it: "We got our Cornell University degree in restaurant management without going to Ithaca," though he says they were able to sell it and get out without losing a lot of money.
McHugh went to work for Seattle's restaurant dean, Victor Rosellini and by '75, figuring he and Firnstahl were ready to try again, they opened Jake O'Shaughensey's near the Seattle Center. With its dinner-only format and in the neighborhood of the opera house, symphony hall and Key Arena, Jake's was a success, but the decision to do McRory's was a leap for the young restaurateurs.
McHugh perceived that the completion of the Kingdome and the awarding of the new Seattle Mariners and Seattle Seahawks franchises by 1976 would energize Pioneer Square, what had been Seattle's Skid Road area. It's a neighborhood to which he now has a five-decade tie, since helping Bill Spiedel create the Seattle Underground tours in 1963 while still a college student.
"Realizing the crowds the Seahawks and Mariners would draw to Pioneer Square, I said to Tim, 'We've got to get down there.'"
Thus with a $2 million loan from the old Seattle Trust & Savings, backed by an SBA loan guarantee, and $400,000 in seismic retrofitting, McRory's opened in November of 1977.
"We had a helluva time at first," he recalls. "It was so big (11,000 square feet) and people just didn't come in at first."
But with the location, the setting, the crowd-friendly size of the place and the then-innovative back bar with hundreds of liquor bottles displayed, rather than the array of glassware on the back bar that was then the norm, the crowds began to arrive.
And a major boost toward success was the Neiman painting and the media visibility it brought.
And McHugh relishes the retelling of the Neiman-painting story. The artist was being featured at a showing of art work nearby and was brought to dinner at McRory's..
McHugh recalls Neiman's enthusiasm that evening when he said "I've seen all the great bars and never seen a bar like this! How many bottles do you have?"
"I told he we had maybe 800 bottles on the back bar and then asked him 'Why not paint it for us?'"
"After some back and forth he finally said it would cost $100,000, two first class plane tickets from New York to Seattle and being put up at the Four Seasons and he'd agree to do the sketch and painting the following St. Patrick's Day," McHugh recalls.
"But after doing the bar, he hit an artist's wall about how to do all the bottles," he added.
While McHugh goes on in detail with enthusiasm about how the final addition of the bottles came about, the short of it is they arrived at Neiman's apartment in Manhattan with two gold bars worth $25,000 as the down payment on completion of the painting.
Neiman still resisted because of his block over how to do the bottles, until his wife suggested a collage of labels that McHugh would soak off the bottles and mail them back to Neiman. That's how the painting finally emerged.
McHugh recalls visiting Neiman in Manhattan each year since then, until the year before his 2011 death, and always inquired whether the artist still had the gold bars. He did, even though the price of gold has escalated dramatically since the 1978 transaction that cleared the way for the unique painting at the should-be iconic Irish pub.