Whether it was fate or serendipity that brought Elwood (Woody) Howse and Tom Cable into business together after a decade of crossing paths, the fact is that the firm they finally created became a major factor in the creation and growth of the technology, biotech and medical-device industries in the Pacific Northwest.
It was actually at the urging of their wives that Cable and Howse decided, in 1977, to leave the Seattle securities firm Foster & Marshall and launch Cable & Howse Ventures. But it took two years and almost 200 calls on potential investors before they raised the $9 million to fund the first limited partnership to launch the firm.
Tom Cable
The business quickly grew into the largest venture capital firm in the Northwest, eventually raising more than $160 million for five Cable & Howse funds that helped finance more than 100 companies, about two dozen of which they took public. More than half of those 100 were outside the Northwest.
Now they've been selected as 2013 laureates of the Puget Sound Business Hall of Fame. They, along with retired Alaska Air chairman and CEO Bill Ayer and Gary Oakland, who built Boeing Employees Credit Union into the nation's fourth largest, will be honored as this year's crop of laureates March 21 at the annual banquet put on by Junior Achievement and Puget Sound Business Journal.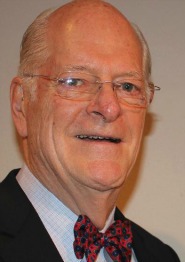 Woody Howse
Cable and Howse first met and became friends at U.S. Navy nuclear submarine school at New London, CN, following which they parted to serve stints as officers aboard nuclear subs. Next they each wound up in graduate school at Stanford, where Howse got his undergraduate degree, although Cable had been gone a year when Howse arrived.
Finally, they took different routes to get from the Bay Area, where they both had jobs in the investment industry, to Seattle to join Foster & Marshall.
Cable & Howse was a different breed than VC firms of today in that the five partners in the firm acted as a private investment banking firm, working with early stage companies to help them find funding and then immersing themselves in the start-up companies.
Howse recalls that "in those days, no one knew how to put together a thorough business plan and business models, so we worked closely with the managements to get the plans pulled together to staff the companies, and to build selling presentations for investors."
"A large proportion of our companies were absolutely seed startups when we invested," Howse added. "Today virtually no local VC funds do seed investing. Individual angel investors, family and friends are the provider of that class of capital now."
Along the way, they also helped shape the software industry that was starting to emerge in the Northwest in the early '80s, putting up the money to allow the presidents of some small software companies to start the Washington Software Alliance, which became the industry's dominant trade organization.
I asked each of them what they viewed as their best investment, as well as their most interesting and most satisfying. Both agreed that Immunex Corp. was the answer to all three but Cable added that the company, one of the Northwest's earliest and most successful biotech companies, was also perhaps the most frustrating.
The frustration was that by then Cable & Howse, guided by a long-languishing share price as Immunex was impacted by a general investor turnoff on biotech through the middle 1990s, distributed all of its Immunex stock before the picture improvd dramatically.
The Immunex involvement was one of a number of investments Cable & Howse made in the medical arena where, as Howse put it, "we always felt the products were aimed at the betterment of mankind, which always made us feel like we were doing something of value."
Both, in what some might suggest are their "retirement" years, remain closely involved with medical-related companies. Cable's last board position is with Omeros, a Seattle-based clinical-stage biopharmaceutical company.
"I think Omeros will emerge, over the next few years, as the dominant biotech company in the Northwest," Cable offered.
Howse is still a member of four corporate boards, two of which he describes as "rank startups: Stella Therapeutics, focused on a technology targeting an orphan disease that is the worst of the brain tumors, and BeneSol, focused on an interesting technology concerning Vitamin D."
Both Cable and Howse also were in agreement when I asked them if they recalled their worst investment.
In what Howse refers to as "the low point of naivete for us as investors" and Cable recalls only as an investment "with no logical reason," they bought Inside Sports from Newsweek Magazine. Since the advertising staff at Inside Sports had sought a share of ownership, which they didn't get, all the ad people quit.
"We stopped funding after two months of having to print the magazine with no ad revenues coming in," says Howse. "We originally thought of it as a road to success but instead it was a black hole."
In 1996, after they proved unable to convince institutional investors of the viability of the Northwest as a place where sufficient new investment opportunities would emerge, Cable & Howse liquidated the partners with an IPO for Applied Microsystem and its distribution.
It's been 17 years since Cable & Howse closed its doors, but to this day the mark that Woody Howse and Tom Cable made on start-ups in the technology, biotech and medical-device industries remain as visible impacts on the region's economy.